The JUTC offers a broad range of services for commuters to pick and choose which offerings best suits their need and indeed their pocket.
REGULAR BUS SERVICE – operates from a point of origin to a known destination via a defined route. There are predefined stops along this route and a predetermined fare for each class of passenger.
Nb. While the Government has approved an economic fare of J$120 dollars, the company, mindful of the hardships faced by commuters and the challenging economic environment, rolled back the fare for adult passengers to $100 and for students and the elderly J$30 and $40 dollars respectively.
EXPRESS BUS SERVICE – is intended to run faster than normal bus services between the same destination points. Express buses operate on a faster schedule by making fewer stops and often taking quicker routes, such as along highways, or by using dedicated lanes.
Fares on our Express service are higher than our regular service and operate only one fare irrespective of the type of passenger. The vehicles used also feature more comfortable seating, particularly on routes that travel long distances at higher speeds without stopping.
PREMIUM EXPRESS – operates similar to an express service except it has more stops and typically operates from a designated housing development. It operates as a more direct service from where commuters live to a designated city within the KMA such as New Kingston, Half Way, Papine, Crossroads, etc.
Since it eliminates the need for multiple modes of travel offering the convenience of a service from home to the Central Business District, fares are typically higher depending on the length of the route.
Charter Services
Leave the stress of driving to us!  We have a dynamic team of experienced, professionals to take you where you want to go. Our air conditioned buses come with the option of reclining seats, extended luggage compartments and optional TV/DVD and Stereo. Our buses are perfect for:
excursions
Event shuttle service
transportation to special events
Group Airport Pick-Up And Drop Off
Call us toll free : 1876- 888- 588 2287 or 876-749-0474. Email: charter@jutc.com.jm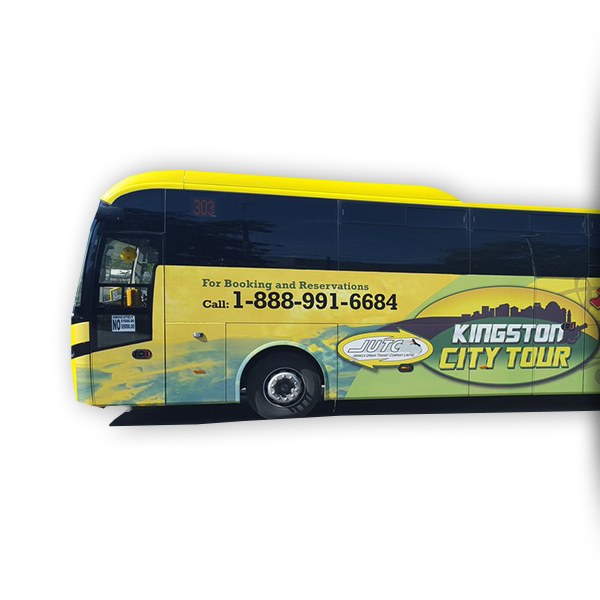 Take the Kingston City Tour
With the JUTC distinctive buses and friendly tour staff, patrons will experience an edu-taining sightseeing tour that is packed with Kingston's impressive history and attractions. There are four tours of the city
Bookings
For bookings call the JUTC Toll Free Line, 1876-888-588-2287 or 1876-749-0474 and make your bookings at least two (2) days before the tour.